**CAUTION: FANGIRL ANGST AHEAD!!** I was distracted all day Tuesday, thinking about those pictures of Richard Armitage at last night's charity event, the Golden Heart Awards, in New York City. Guylty (with some sourcing from Kate) posted the pictures yesterday and I've posted them again below — plus an additional picture from the event.
While spending way too much time on-line today, I found Richard again in the background of this picture from the charity's website (no photographer credit was given):
And here it is focused in (apologies to the photographer for enlarging and cropping the very clear photo):
The first record of the event was from Richard on Twitter giving us a nice photo of just himself at the dinner, showing the hair, mustache, and beard that he's growing, maybe for Chekhov's Uncle Vanya play, scheduled to begin January in London. Very nice look, I think. (As opposed to the random guy next to him in this photo, who really should have ironed his suit jacket.)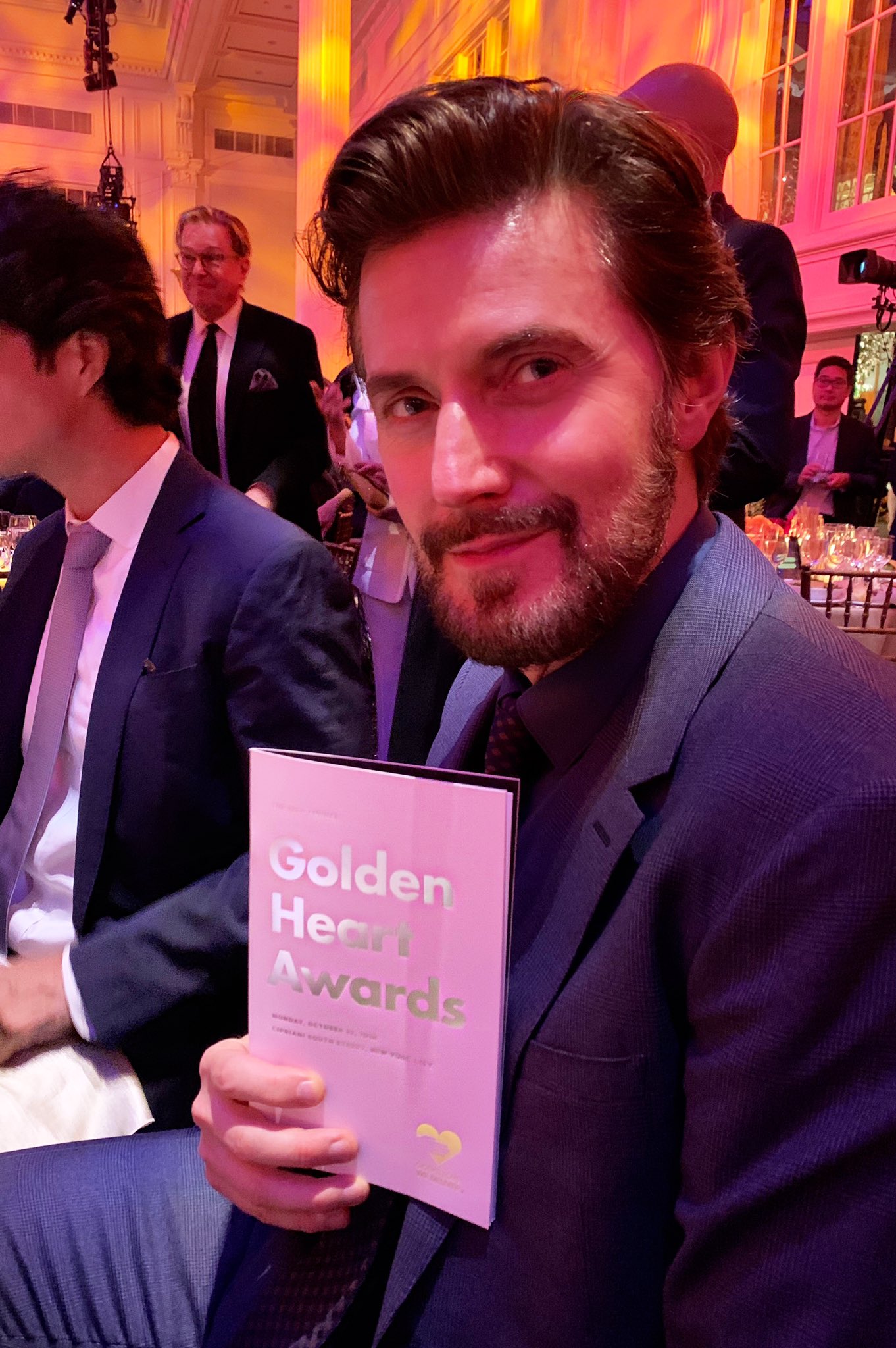 But then the official photos of the evening by Patrick McMullan showed up on Getty Images (thanks, Kate via Guylty, for the find).
So, first, I really like his whole look, including the suit, shirt, and tie. I love that he's put on a bit of weight and looks healthy and like he's just enjoying life. Nice that he's taking a pause between jobs right now, it seems.
Over on Guylty's blog, Rachel pointed out that the man he is with is Jim Gibb, listed in some places as Creative Director at Authentic Brands Group. Others show him as formerly being in that position, but having been an art director in advertising and design for more than 15 years, with a BA in graphic design from Brigham Young University. (The man in the middle in the last photo is Sheridan (Dan) Wright, who is on the charity's board.)
But, wow. Is this a date? Out in public? And being photographed? And if so, was he holding back from being photographed with a male romantic interest only while his mum was still alive?
Or, did the charity invite him and this is a pal who lives in his building or works out at the same gym or whatever? Or is there somehow a professional reason that he might know him? Is Gibb involved in brand management for celebrities, for example?
I was talking to my friend at work today and we were discussing how she and I often pose close together in photos, but there is only friendship between us, so a pose doesn't necessarily mean anything. On the other hand, my other friend at work says that I am in denial.
So, the next question is: If Richard was on a date, does it change the way I feel? Is it important to my fangirling experience that I can maintain plausible deniability? That there is no overt declaration?
Why should it matter? It's not as if I would ever be in a position where my movie boyfriend would ever become my real boyfriend (not to mention even that of course I've been married for 31 years). And yet, is it important to my idea of him that he potentially be romantically interested in women?
These are only questions, but they have kept me thinking all day.